Bronxville Junior Gravier Sets New Pole Vault Record at the Section 1 Kick Off Meet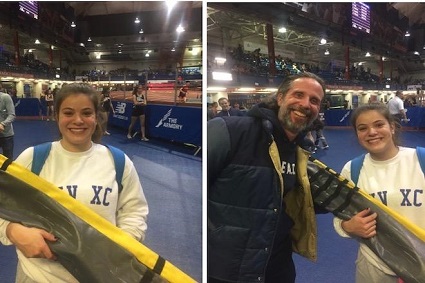 By S. Quinn DeJoy and J. Murrer
The Section 1 Kick-Off was only the first meet of the indoor track season, but for Bronxville junior Jules Gravier, it was a record-breaking night. Last Saturday night, Gravier cleared 10 feet in the pole vault, breaking the Bronxville School indoor record.
Gravier started competing in the varsity pole vault event during her freshman year, and last year as a sophomore, she cleared 9'3" indoors and 10' outdoors.
"I was just very happy I cleared the height," said Gravier. "It was one of those heights I have cleared before outdoors, but to get it at the first indoor meet was a relief."
Gravier was a gymnast until 5th grade, but when she reached middle school, she wanted to experience a new sport. With encouragement from Coach Ian Clark, Gravier decided to pursue pole vaulting.
Winter is a difficult time to practice field events, but when the weather allows, Gravier will practice down at Chambers. She also trains twice a week at the Hudson Valley Flying Circus in Warwick under the guidance of Tim St. Lawrence and Stephanie Duffy.
The record-breaking vault puts Gravier six inches ahead of the previous record holder, Vivian Mroz. The top six performers in Bronxville history are shown below.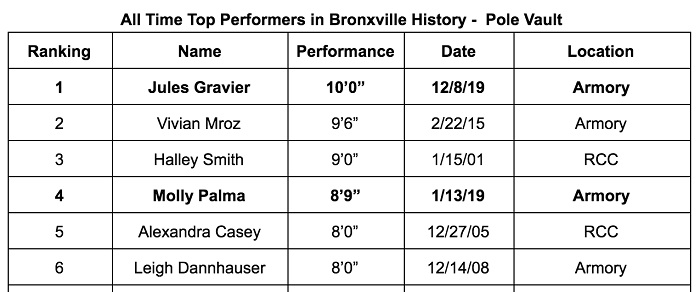 Overall the girls' indoor track team had outstanding results in their very first meet of the year. The Kickoff Meet included 20 teams from across Section 1, and two Bronxville girls won their respective events. Eve Balseiro won the 600m in 1:38.37, and Ava Black won the 1000m in 3:04.57. As a result of their performances, both girls are currently ranked #3 in the U.S. 
Other athletes who received a medal included Caroline Ircha (55m, 4th place and 300m, 3rd place), Kelly Weild (300m, 5th), Maddy Stupart (600m, 5th), Betsy Marshall (1000m, 5th), Maeve Sullivan (1500m, 2nd), and Marielle Dibbini (High Jump, 3rd).
This week the Broncos are getting ready for their second meet of the year, the Jim Mitchell Invitational, which will be held on Saturday night at The Armory.
Go Broncos.

Pictured: Junior Jules Gravier and her father, Joe, after breaking the school record in the pole vault.
Photo by D. Ryan.