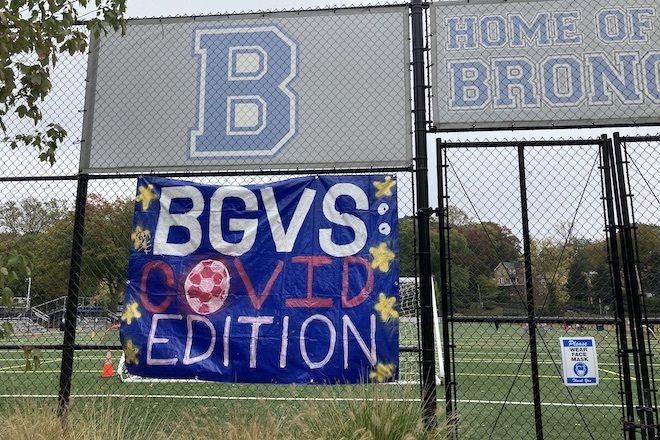 By S. Quinn DeJoy and J. Murrer
Oct. 21, 2020: The fall sport's season started a little late this year, but the Broncos opened last week with great success. 
2020 has been an especially challenging year for senior athletes who were not sure if the fall season would ever happen. Seniors are usually recognized during the last home game of the regular season, but with all the uncertainty of the pandemic, Senior Day took place at the very first home contest.
The athletes were honored during opening week with senior banners and flowers, and many teams showed additional spirit by designing colorful posters.
Below is a look at how each team fared in opening week. 
Boys' Soccer
The Broncos on Chambers Field against Hastings on Saturday. Photo by S. Quinn DeJoy. 
The Bronco boys' soccer team opened the season with wins against Croton (4-0), Hastings (5-0), and Dobbs Ferry (3-1). In the Croton game, Griffin Patterson scored three goals, and Ellis Goodson scored one, and in Saturday's game against the Yellow Jackets, Mark Pytosh scored two, and Goodson and Will Redmond had one apiece. It is early in the season, but LoHud ranks the Broncos No. 3 in Class B behind Pleasantville and Briarcliff. 
Senior captains Macklin Pettee, Liam Sands and Henry Sheehan lead an experienced team with a dozen seniors. In addition to the captains, seniors Will Grant, Chris Aherne, Casey McKhann, JP Swenson, Willy Swenson, Nicky Frrokaj, Griffin Patterson, Jack Bodel, and Peter Curran round out the roster. 
Girls' Soccer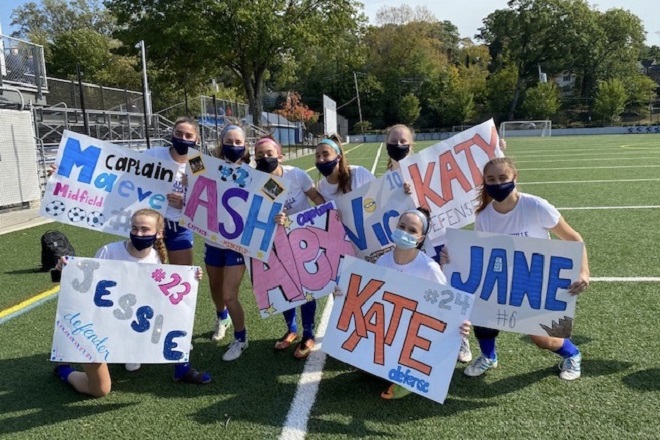 The senior girls on the soccer team posing with their Senior Day posters. Photo submitted by Don Cupertino. 
The Bronxville girls suffered a 1-0 loss to Pelham in their first game of the season but came back to beat 2019 Class A semifinalist John Jay- Cross River, 1-0, last Saturday. Lily Jebejian scored the lone goal of the John Jay-Cross River game, and goalie Milly Koenig, who had 5 saves, was named Player of the Game by Lohud.
Nine seniors are on the roster, including four captains, Maeve Sullivan, Alex Doukas, Victorio Ruffo, and Ashley Toal, and seniors Katy McBride, Jessica Sonday, Jane Becker, Isabelle Breit, and Kate Saluti. 
Field Hockey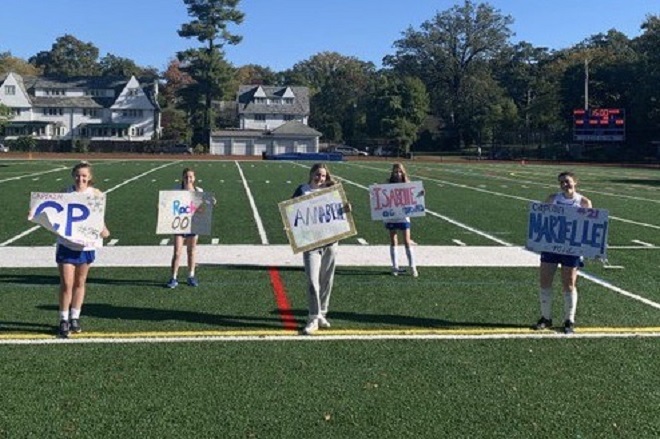 Spirited Bronxville field hockey seniors on Chambers Field during opening week. Photo courtesy of @sports_broncos. 
The defending Class C State Championship Broncos faced some tough competition in their first week on the field. In the season opener, the Broncos defeated Pleasantville (3-1) with scores by Isabela Fenner, Olivia Gunther, and Carmen Philips. They also picked up a win in game 2 against Ursuline (2-1) with two goals from Hudson Zivic and assists from Marielle Dibbini and Fenner. 
The Broncos, ranked No. 5 in the LoHud Power Rankings, faced No. 4 North Salem on Saturday in their toughest match so far this season. The game ended in a 1-1 tie, with Philips scoring the Bronco goal and an assist from Fenner. Bronxville's goalie Rachel Roberts has been busy with twelve saves so far this season. 
There are only five seniors on the team, including Marielle Dibbini (captain), Caroline Palermo (captain), Isabelle Kennedy, Annabelle Krause, and Rachel Roberts. 
Boys' and Girls' Cross Country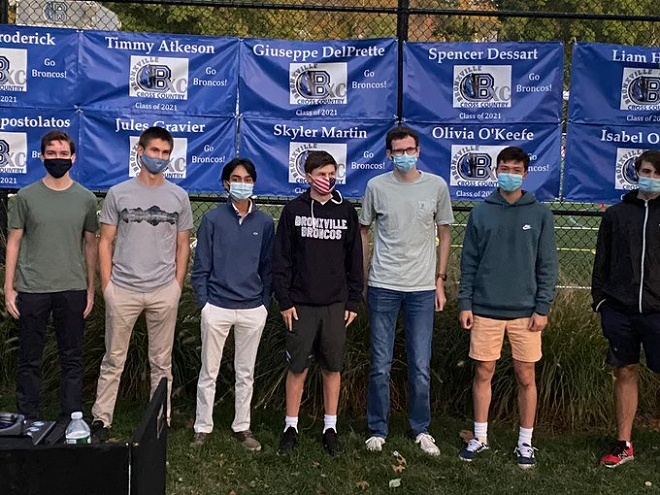 The senior boys on the cross country team during Senior Day. Photo courtesy of @sports_broncos. 
At the Section 1 Milton Invite at the Hudson Valley Sports Dome, the Bronco girls and boys competed against 17 schools in the first invitational of the season. There were no fans allowed at the meet, and the runners wore masks when they were close to other runners. 
In the girls' Block 1 varsity race, Betsy Marshall placed 7th (22:10.2), Avery Widen placed 9th (22:24.5), and Kailee Fino (23:08.2) and Rory Denning (23:09.6) placed 13th and 14th, respectively. In the girls' JV race, Rachel Conniff placed first in 24:49.2. In the Block 1 boys' varsity race, junior John Ryan placed 3rd in 16:34.6.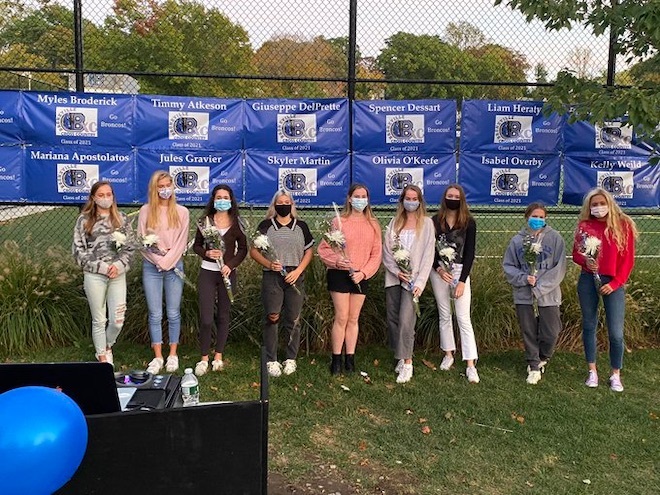 The senior girls on the cross country team during Senior Day. Photo courtesy of @sports_broncos. 
Three Bronxville eighth-graders ran well in the freshman competition. Maddy Williams won the girls' race in Block 1 (9:47.5), and Linnea Hentschel placed 5th (10:54.2), and in the boys' freshman race, Skylar Lau placed 3rd in 9:00.2. 
Tennis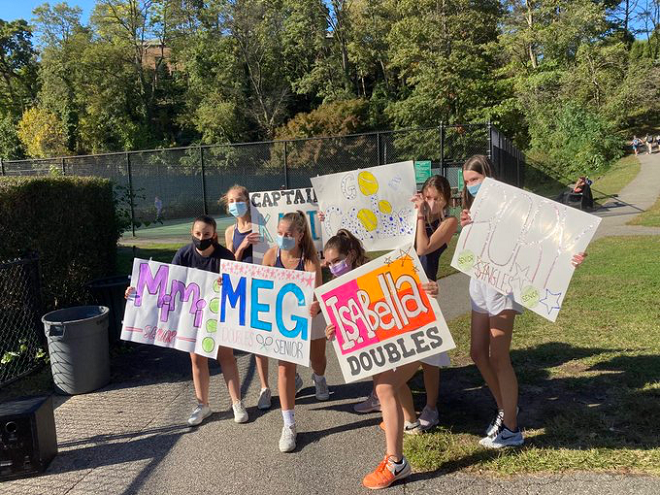 The tennis team with their Senior Day posters. Photo courtesy of @sports_broncos. 
The girls' tennis team lost 4-3 to Rye Neck in its home opener and lost again Monday 5-2 to a strong Edgemont team. There are six seniors on the team, including Rory Christian (captain), Kate Formato (captain), Caroline Hulbert, Mimi Zannetos, Meg Outcalt, and Isabella Bouvard. 
Go Broncos.