Preston Maze (56) recovers a fumble in the game against Dobbs Ferry. Photo by David Fenner.
By S. Quinn DeJoy and J. Murrer
Mar. 31, 2021: After last week's 28-0 shutout against Class C defending champion Valhalla, the Bronxville football team continued to dominate again this week. In their home opener on Saturday, the Broncos scored five touchdowns against Dobbs Ferry in the first half and held the Eagles scoreless until the fourth quarter. The final score was 48-7.
At the beginning of the game, the Bronco defense started off slowly allowing Dobbs Ferry to move the ball in their first two possessions.
"Our outside linebackers were not used to the sweep that Dobbs used, but they figured it out quickly," said Captain George McCormick. "Once we made adjustments, Dobbs wasn't going to be able to score."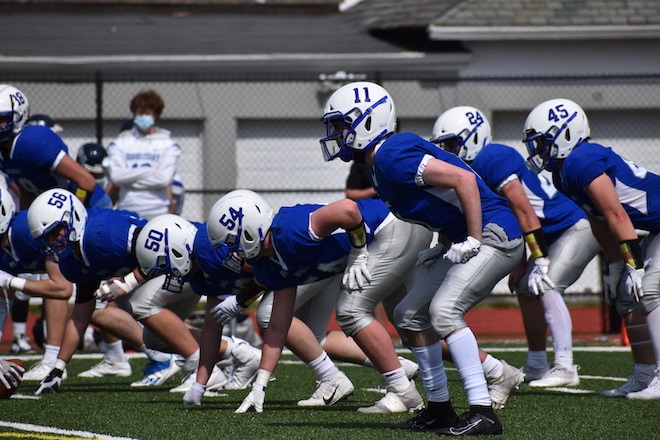 The Bronco defensive line. Photo by Susan Miller McCormick.
McCormick, who plays defensive line along with Riley Ramundo, Peyton Beldotti, and his brother Spencer McCormick, had much praise for his teammates.
"We have a bunch of kids who want to do their job, go to their spot, and win their assignment," said McCormick. "I have to give credit to Riley Ramundo, who came in late because he was finishing the basketball season. He has stepped up and is very disciplined. Peyton Belotti is in his first year playing defense and has really stepped up, too.  It's particularly awesome to play with my brother. I think he is doing his job well as they aren't running up the middle. He gets really into in the game and turns it on."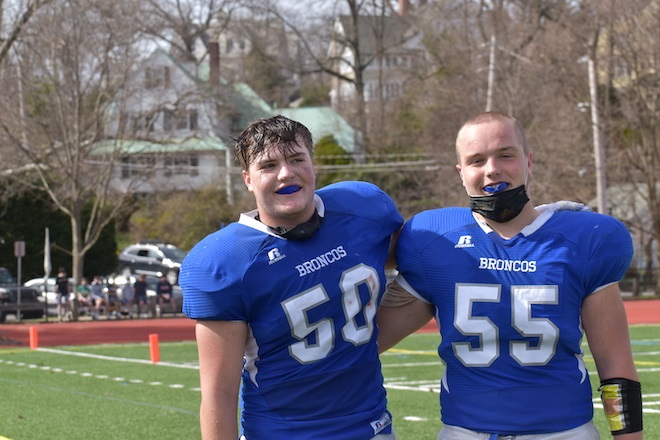 Spencer (50) and George McCormick (55). Photo by Susan Miller McCormick.
The Bronco offense was unstoppable. Henry Donohue, who started the game at quarterback, set up the first touchdown with a pass to Connor Randall for a first and goal. On the very next play, Randall ran it in to put the Broncos on the scoreboard. Randall, who was sidelined last week, scored one more time before the end of the first quarter. He had 77 total yards in the game.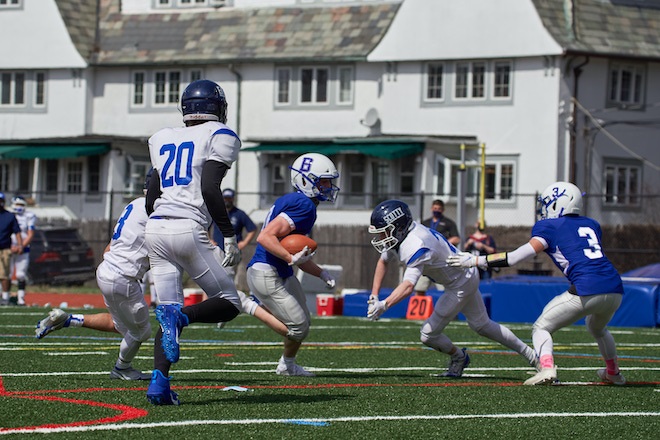 Connor Randall heading toward the endzone. Photo by David Fenner.
The Broncos went on to score five more touchdowns. Henry Donohue ran for a 74-yard touchdown in the second quarter, and after Dobbs Ferry fumbled, he scored again in under a minute on a 58-yard run. Donohue scored a total of three times on 12 carries and completed a 35-yard pass. He had 196 total yards for the game.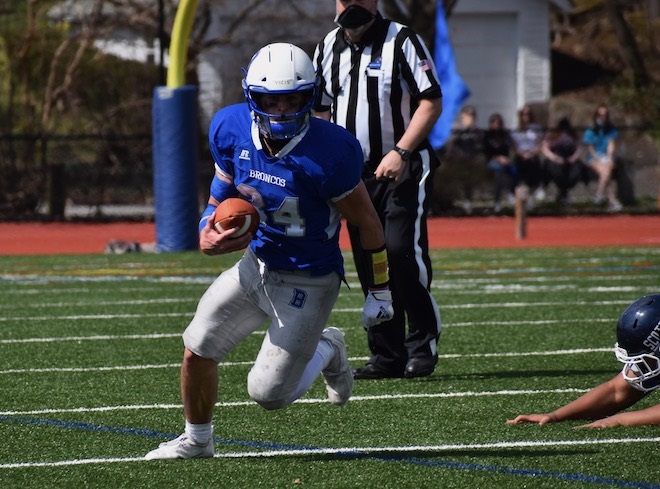 Henry Donohue with three touchdowns in the game against Dobbs. Photo by Susan Miller McCormick.
Chris Kelty scored on a pick six in the second quarter, and Will Murray ran for 43 yards and had a touchdown in the fourth quarter.  Quarterback Teddy Dolan had 75 yards of total offense.
The Broncos will host Tuckahoe tomorrow at 3PM. Fans are restricted to two per player but the game can be watched on LocalLive 
I think it is going to be a lot of fun" said McCormick.  "It will be cold and rainy, and we know that will add an extra level of challenge.  It is going to be a difficult, grittier game."
Tuckahoe was a strong team last year making it all the way to the state semifinals. The Tigers have had a strong start to the season with a 43-0 win over Blind Brook in their season opener and a 37-18 win over Woodlands last Saturday.
Go Broncos.