John Ryan (right) in a cross country meet at Milton this fall. Photo submitted by J. Ryan. 
By S. Quinn DeJoy and J. Murrer
Nov. 18, 2020: There are no state or sectional playoffs this fall, but Section 1 held Class C Championships for cross country last weekend and will hold regional championships for the turf teams this week.  
The cross country teams competed in the Milton Invitational #5 on Saturday with great results. In a race that included schools of all sizes, sophomore John Ryan placed second in 16:08.7. 
There were 27 teams from across Section 1 competing on Saturday, but because of the pandemic, multiple races were held in separate blocks. Carmel's Josh Goldberg placed first overall in 16:08.0. His time was just 0.7 seconds faster than Ryan, but the two top finishers did not compete in the same block. 
The final cross country race of the season will be held next weekend, again in Milton. The Milton course is adjacent to the Hudson Valley Sportsdome. 
"It is a grass course and not too hilly," said Ryan, who has run cross country since seventh-grade. "My goal next week will be to run a sub-16."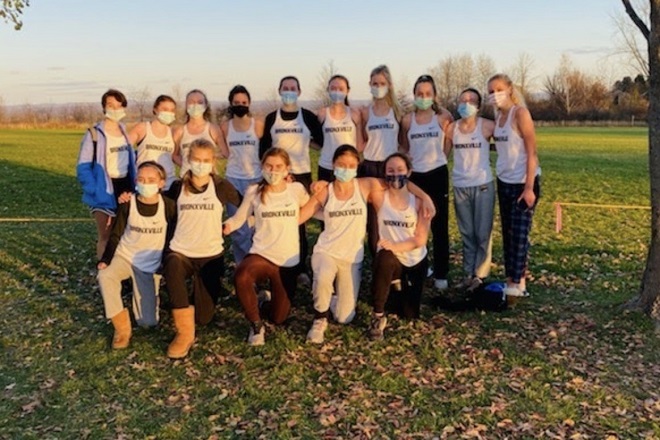 The girls' cross country team at the Milton Invitational #5 this past weekend. Photo submitted by D. Ryan. 
The girls' cross country team won the Class C Championship scoring 25 points and finishing ahead of Albertus Magnus (49), Haldane (81), and Hastings (86). 
Five Bronco girls finished in the top ten, including Maddy Williams, who placed third in 20:17.9, Betsy Marshall, 4th (20.25.6), Avery Widen, 6th (20:37.3), Lyndsie Schultz, 8th (21:50.1), and Rory Denning, 9th (21:56.8).
The Bronco turf teams have fared well this fall and will have home field advantage in their first games. 
The 9-1 boys' soccer team had five shutouts during the regular season and was undefeated until Saturday when they lost their final game of the season to Class A New Rochelle 2-1. They enter the playoffs as the No. 1 seed in the Southern Westchester Small School division and will face No. 8 Westlake today at 2:00 pm. The semifinal game will take place on Friday at the higher seed, and the championship game will be held on Sunday. 
The girls' soccer team (9-2-1) is ranked No. 3 behind No. 1 Pleasantville and No. 2 Tuckahoe. They played their final game of the season on Saturday, shutting out Lakeland 3-0. The Broncos will play at home on Thursday at 2:00 pm in the quarterfinals against No. 6 Dobbs Ferry. 
The semifinals will take place on Saturday at the higher seed, and the finals will take place on Monday. 
The field hockey team lost 1-0 to Class B Rye in their final game and finished the regular season with a 6-4-1 record. They are seeded No. 2 in the regional playoffs behind Rye Neck. The Broncos will play in the semifinals today at 1:30 pm against the No. 3 Irvington, who defeated No. 6 Valhalla 1-0 in double overtime on Tuesday. The championship game will be held on Friday. 
The number of fans is restricted due to the pandemic, but the games are live-streamed on LocalLive at https://events.locallive.tv/school/bronxville-hs.
Go Broncos.