The girls' tennis team during their final practice of the season. Photo by Steve Klurfeld.
By S. Quinn DeJoy and J. Murrer
Nov. 11, 2020: The Bronco teams are headed into the final stretch of the regular season and will head to playoffs next week. In an effort to limit travel due to COVID, the usual sectional tournament will not be held but instead teams in Section 1 will compete in regional playoffs. It is a shortened playoff season, which starts Monday and continues until November 23rd so that the fall season will be completed prior to the Thanksgiving break.  All of the Bronco teams will compete in the Southern Westchester Small School Region.
Below is a look at how the teams fared in the past week, and where they stand as they head into playoffs.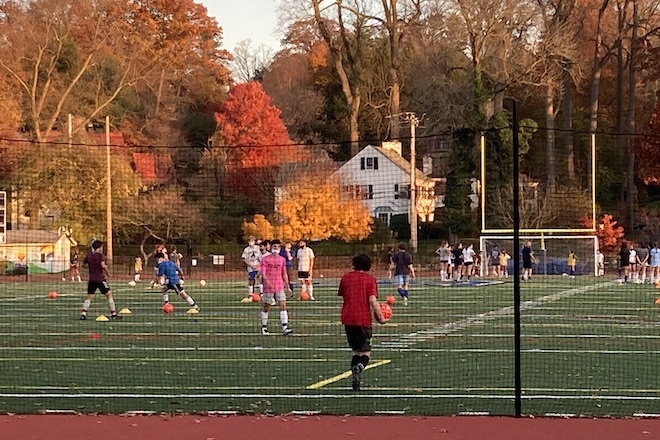 The boys' and girls' soccer teams practicing at Chambers Field yesterday. Photo by S. Quinn DeJoy.
Boys' Soccer
The boys' soccer team won the League Championship in this abbreviated season, and is currently the only undefeated Bronco team with an 8-0-0 record. They are the top-ranked team in Class B with Pleasantville and Valhalla trailing behind in the No. 2 and 3 spots.
The team is led by seniors Henry Sheehan, Liam Sands, Macklin Pettee, Griffin Patterson, J.P Swenson, Chris Aherne, Jack Bodell, and Casey McKhann. Underclassmen Will Redman, Aidan Sulmiski, Albert Van Ness, Ellis Goodson, Mark Pytosh and Chris Patterson have been a huge addition this year. The ,Broncos, ranked No. 1 in Class B by LoHud, have two games left before heading into the regional playoffs on Monday. They play home against Scarsdale B today.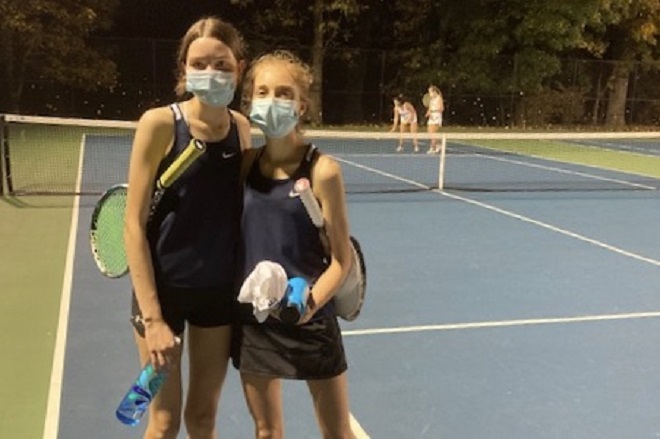 Katie Formato and Rory Christian won the doubles regional championship yesterday. Photo by Steve Klurfeld.
Girls' Tennis
The girls' tennis team entered the Southern Westchester Small School regionals this past week, and Bronxville's top doubles team, Katie Formato and Rory Christian, defeated Rye Neck 8-1 in the semifinals on Saturday to advance to the regional championship. In a thrilling two-hour match at Irvington yesterday, Formato and Christian defeated Irvington's Charlotte Calick and Clio Salles-Spar 6-1, 7-6 to win the regional title.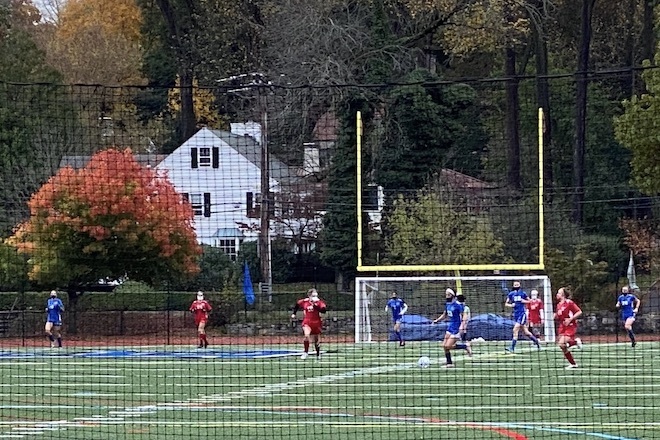 The girls' soccer team playing at home last week.   Photo by J. Murrer.
Girls' Soccer
The girls' soccer team (6-2-1) is ranked second in Class B and third in the regional playoffs behind No. 1 Pleasantville (10-0) and No. 2 Tuckahoe (5-1-1).  In the game Monday against Horace Greeley, Alex Doukas scored twice and Lily Jebejian added one more to give the Broncos a 3-1 victory. Goalkeeper Milly Koenig had six saves. According to LoHud, Jebejian is ranked 6th in scoring in Section 1 with 11 goals and 6 assists. The Broncos have two regular season games left. They play at Dobbs Ferry today at 2:00 and at Lakeland on Saturday at 11:00.
Field Hockey
The field hockey team (6-3-1) suffered three losses in the last week including  a 3-0 loss to No. 1 ranked Mamaroneck and a 2-1 loss to White Plains. In the game against White Plains, Carmen Phillips scored with an assist from Ellie Clifford, and Rachel Roberts played a great defensive game with nine saves.  Last week, Bronxville forward Olivia Gunther was voted LoHud Player of the Week for her performance in the 3-0 win over Valhalla at the end of October. Gunther scored two unassisted goals in that game. The Broncos will play their final game of the regular season at home against Rye on Saturday at 10:00.
Cross Country
The cross-country championships will be run at the Hudson Valley Sports Dome in Milton on Nov. 21-22.
Go Broncos.