The cross country team at the league championships. Photo submitted by David Ryan. 
By S. Quinn DeJoy and J. Murrer
Nov. 4, 2020: There has been steady improvement for the girls on the cross country team since they received the go ahead to practice and compete in late September. At the League Championships held on Halloween at the Hudson Valley Sportsdome in Milton, the varsity squad won the league title with seven of the top ten Broncos running a personal best for that course. 
Eighth-grader Maddy Williams won the individual league title in 20:21.4. Williams joined the varsity team this year after having run on the modified team in seventh grade. She is off to a great start during this abbreviated season. At the 2nd Milton Invitational on October 24th, Williams placed 2nd in 19:34.9 while competing against athletes from Eastchester, Fox Lane, Nanuet, Lakeland/Panas, and Pleasantville. Her time in that race was the 3rd fastest 5K time in Section 1 this season. 
Co-captains Betsy Marshall and Avery Widen placed 3rd and 4th at leagues with times of 21:03.5 and 21:17.1, respectively. Rory Denning, also a captain of the team, placed 7th in 21:54.4.
"It was my PR for the course," said Marshall. "I was running with my good friend and co-captain Avery Widen. We have a really good pace together, and we both push each other pretty hard. If I am falling behind, she will help me get going and same goes for her. We always finish close to each other."
Because of COVID, the League Championship only included two teams. "We only ran against Irvington because Hastings and Dobbs Ferry had been shut down due to COVID," said Marshall. "We were looking forward to competing against Dobbs Ferry because we lost to them in sectionals last year."
The Broncos hope to compete against Dobbs Ferry in a few weeks at the Section 1 Championships. Bronxville had an edge over Dobbs Ferry at the 2nd Milton Invitational. In the merge of the four races that day, Bronxville finished first and was followed by Dobbs Ferry (2), Irvington (3), and Albertus Magnus (4).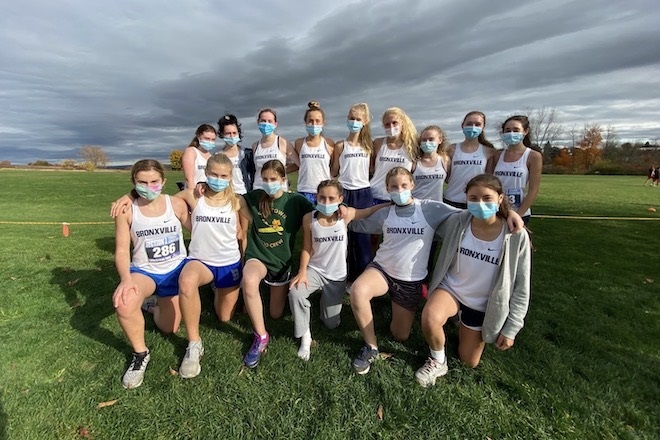 The Bronxville girls' cross country team after winning the league championship on Halloween. Photo submitted by David Ryan. 
The Broncos have adjusted to training and competing in masks even though at the beginning of the season, it was quite a challenge. Despite the COVID restrictions and the shortened season, the team has come together earlier this season than usual. 
"Last year, our team really started to solidify towards the end of the season," said Marshall. "This year, we have been a really strong tight pack the whole season. It may be because we were all training so hard before team practices started."
The Broncos only have two meets remaining. The Westchester County Championships will take place on November 14th and the Section 1 Championships on the 21st. The State Championships will not be held this year. 
Runners who finished in the top fifteen in both the League Championships and 2nd Milton Invitational are listed below.
League Championships
Maddy Williams, 1st, 20:21.4
Betsy Marshall, 3rd, 21:03.5
Avery Widen, 4th, 21:17.1
Rory Denning, 7th, 21:54.4
Kailee Fino, 11th, 22:50.5
Lyndsie Schultz, 12th, 23:11.5
Athena Catto-Howell, 13th, 23:45.8
Linnea Hentschel, 14th, 23:47.7
Rachel Conniff, 15th, 23:52.1
2nd Milton Invitational
Maddy Williams, 2nd, 19:34.9
Betsy Marshall, 7th, 21:11.4
Avery Widen, 8th, 21:17.8
Lyndsie Schultz, 10th, 22:34.9
Rory Denning, 11th, 22:48.5
Go Broncos.