Katie Welling Run is Over Thanksgiving Weekend: Registration Link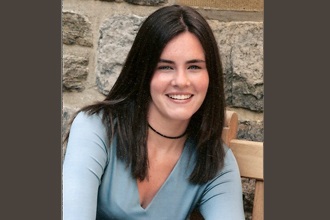 Submitted by Lisa Sorensen,Bronxville School Foundation
Nov. 20, 2019:  The annual Katie Welling Memorial Run/Walk will be held on the Saturday after Thanksgiving, November 30. This year marks the thirteenth anniversary of the run/walk.
The run/walk is sponsored by The Bronxville School Foundation, whose website describes the event: "The Run/Walk is a wonderful community event that honors Katie Welling, a 2002 BHS graduate and competitive runner who died at the age of 21 in an off-campus fire at Miami of Ohio University. The Run/Walk commemorates Katie's wonderful sense of humor, her infectious laugh, and her love of life and sport. After the race, there will be refreshments and awards on the track. The funds raised by this event benefit The Bronxville School Foundation."
As Tom Welling, Katie's father, and Peggy Williams, the executive director of The Bronxville School Foundation, said in an article in MyhometownBronxville last year, "Katie's death in an off-campus fire at Miami University in Ohio in 2005, just 11 days after her 21st birthday, was devastating for her family and friends, who still struggle with her loss. The love and support from Katie's friends and so many in the community were and continue to be a great source of comfort to the Welling family. Katie's Run is a recurring manifestation of this community spirit of caring. The 2.5-mile run/walk was organized by Katie's classmates and friends ten years ago and has become an important community Thanksgiving weekend tradition." 
You can register online now through Nov.26 or register in the following locations:
Friday, November 29th, from 10 AM to 4 PM at the Bronxville Running Company:  52 Pondfield Rd. Bronxville, NY 10708   
Saturday, November 30th, 7:30 – 8:30 AM on the front lawn of The Bronxville School on Pondfield Road.
The entry fee is $25 before November 25 and $30 thereafter, including the day of the race. The age groups are 8 and under, 9-12, 13-18, 19-35, 36-49, and 50+. 

Pictured:  Katie Welling

Photo courtesy Bronxville School Foundation


Editor's note: As a public service, MyhometownBronxville publishes articles from local institutions, officeholders, and individuals. MyhometownBronxville does not fact-check statements therein, and any opinions expressed do not necessarily reflect the thinking of its staff.