Left to right, Carolyn Moriarty, Margaret Conaton, Mayor Mary Marvin, Anne Coyle Lemberger and Tara Tyberg.
By Carolyn Moriarty
June 2, 2022: Bronxville Beautification Council has had two special raffles!
Mother's Day
The BBC celebrated Mother's Day with a special raffle this year.  
To raise funds for the BBC's downtown and central business district beautification efforts, volunteers sold raffle tickets on Pondfield Road on Saturday, May 8th. Raffle participants bought chances to win gorgeous Mother's Day Gifts such as lush spring planters, carefully chosen gardening tools and inspiring gardening books.  
All ticket proceeds went to benefit BBC projects.  The BBC does not receive any funding from the Village and is entirely dependent on your tax-deductible contributions.  For more information, visit 
www.bronxvillebeautificationcouncil.org
.
Raffle Winners were Maria Schultz, Anne Coyle Lemberger, Anne Grunseich and Nora Gorman
Memorial Day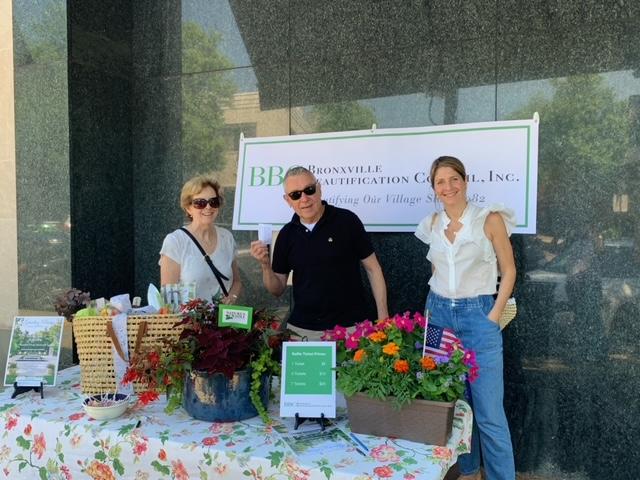 Memorial Day Raffle: Pictured are (left to right) BBC Board Members Tara Smith Tyberg, Hershell George and Valerie Otto.  
The BBC also held a Memorial Day Raffle.  Winners to be announced soon!
Garden Party Coming Up
The Board is seeking new members and welcomes the community to its June 5th Garden Party from 4:00 until 6:00 PM.
Tickets are $100 and 100% tax -deductible. Ticket revenue will be used to beautify our downtown business district with decorative flowers and plantings. 
Tickets can be purchased at the event at a local home.