By Jane Staunton and Kerry Walsh, BXV for BXV Stronger Together
Slave to the Grind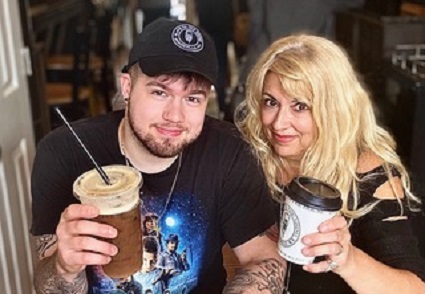 Troy and Carol Marshall
Oct. 7, 2020: Twenty-seven years ago, Carol Marshall saw the advent of the coffee culture and decided to open Slave to the Grind with her husband, Andy.  
Inspiration for such a visionary idea came while Carol was on maternity leave from RCA Records with her fourth child. Watching a Good Morning America episode on coffee's shift away from cans and preservatives to fresh roasted beans from the farm, this engaging coffee lover knew what she wanted to do – build a business and community where people "feel comfortable to connect with other people" over coffee. Today you can connect over one of the 68 varieties and the special Sumatra/Colombian house blend that the coffee bar keeps on hand.
Slave to the Grind, which Carol considers her sixth child, is very much a family affair. Her husband Andy, a former executive chef, was the face of the shop until his untimely passing last year. Today you can see Carol there on most days along with her son Troy who is the manager. 
In fact, all of Carol's five children have worked at Slave, as have her six sisters, along with nieces, nephews, and countless other relatives.
Originally hailing from Long Island, Carol believes "there's life, and then there's existence." This multi-talented lady, who's also a singer/songwriter who's performed at Fogarty's in the past, truly lives by those words. She finished high school early and took a "three-year gap year," went to the Fashion Institute of Technology, and then on to a career with the entertainment conglomerates, MCA and RCA Records.  
Fluent in four languages, this world traveler also runs a travel agency, which is currently on hiatus due to COVID. Having seen most of the world, Carol favors Sicily, a nod to her family heritage. Next stop? Back to Turkey!
Maison Rouge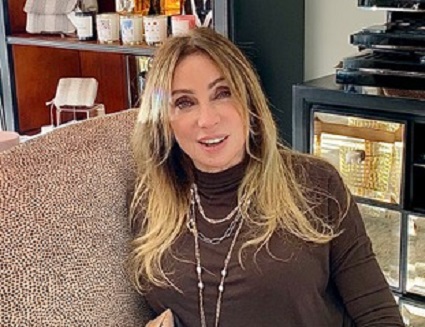 Patti Margro
When asked how she became interested in makeup, Maison Rouge owner Patricia Margro answered, "my grandfather." Trying to sneak out of the house at age 13, he would grab her hair and say, "go upstairs and take the junk off your face"!  
Patricia, the only redheaded girl in her family, knew early on that she wanted to look like her beautiful brunette cousins. Adding a little water to foundation creams for a natural look and gently rubbing color on her brows and lashes did the trick. She was a natural talent with an excellent eye for color.
After attending the University of Miami, Patti studied to become a makeup artist and soon won many awards for her stroke of the brush. With a desire to work with movie actors, she then got her SAG card, and a fascinating career followed.
Patti worked at the cosmetic counters in all the famous Fifth Avenue stores and enjoyed a nine-year working relationship with Laura Mercier. But it was a twenty-year career at Hearst Publications that was Patti's favorite job where she loved doing makeovers on men because "they were not fussy." During this time, she was assigned to work with Debra Winger, who hated makeup, but Patti soon became the only makeup artist Debra would use. She also did photo shoots with renowned fashion photographer, Patrick Demarchelier and his son, Victor. Those were the days!
In 2002, Patti realized that Bronxville would be the perfect location to open her own shop. You may have seen her working her magic on customers in her large window on Pondfield Road. Today she's doing her magic in the center of town next to Continental 109 Salon. It's worth the visit!   
Continental 109 Salon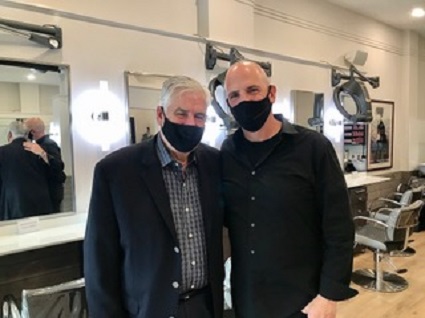 Nick and Mark DeVincenzo
Nick DeVincenzo is now styling his fourth generation of clients at Continental 109 Salon, which opened nearly 60 years ago. Over the years, this spry handsome owner has bestowed his talents on such famous people as Chuck Scarborough's wife, Mrs. Jack Parr, and Regis and Kathie Lee. In recognition of this long-time establishment and a man known for his big heart, you can spot a Village plaque in Nick's honor outside the Salon.  
Originally from Naples, Italy, Nick began his career designing shoes and managing a shoe factory before becoming a licensed beautician. He then brought his talents to Bronxville, along with his wife, who was also a wonderful hair stylist. Today, you can see his son Mark in the Salon fulfilling his dream of working side by side with his Dad. But that dream needed a little coaxing.  
When Mark was a teenager, Nick and his wife convinced him to attend beauty school, so he too would have a license. Nick subsequently sent his son to study with Vidal Sassoon in London in the 1980s, where he "got his stripes." When Mark returned to New York, he worked at Frederic Fekkai for almost 30 years and still spends a couple of days a week in the city at The Julien Farel Group. 
Seventeen years ago, Mark declined an opportunity to open a business with colleagues in the city to join his Father. This working relationship is very special to Mark and one he wouldn't change for the world. For it was his Dad who taught him the importance of interacting with clients, giving an excellent haircut, and training staff.
Together Nick and Mark have modernized this full-service Salon to accommodate both the changes in their customer's needs as well as the new COVID-19 requirements.  
Other Spotlight Features
If you'd like to read about other businesses in town, click on these links for other Spotlight Features.
Spotlight on Found Herbal, Mossy Fern, and Provisions for Pets
Spotlight on Booskerdoo, Bronxville Jewelers 90 and Station Plaza Wine
Spotlight on Bronxville Fitness Club, Fabio's Hair Studio & Wild Vine & Liquors
Spotlight on Adrian East, Bronxville Furriers and Beer Noggin
Spotlight on Chantilly Patisserie and Bakeshop, Enrico Gargano Hair & Hickey's Del
Spotlight on Ladle of Love, Mrs. Morgan's Flower Shop & Gillard's
Photo at top: A.Warner; Other photos provided by J. Staunton and K. Walsh
Editor's note: As a public service, MyhometownBronxville publishes articles from local institutions, officeholders, and individuals. MyhometownBronxville does not fact-check statements therein, and any opinions expressed do not necessarily reflect the thinking of its staff.