By Sherry Saturno, Executive Director, Gramatan Village
Oct. 28, 2020: This October, Gramatan Village began delivering Be Well Gift Packages to its members in collaboration with Eastchester's Troop 353, spearheaded by Eagle Scout Candidate Ciaran Dowling.
Each Be Well Gift Package includes four masks, four pairs of gloves, hand sanitizing wipes, and a bottle of hand sanitizer. The deliveries will continue through the end of December to promote good health as we navigate fall and winter.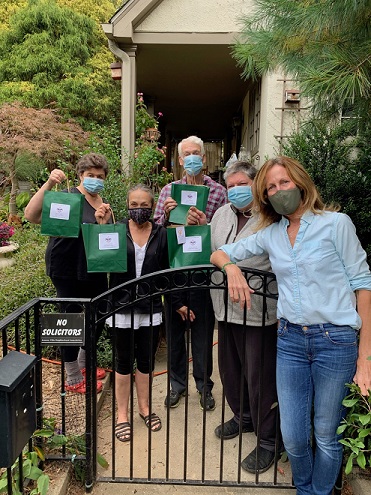 Gramatan Village Administrative Manager Kathryn Urbina participated in a round of deliveries with the volunteers and remarked, "It has been wonderful to see how supportive and engaged our community is in helping older adults and promoting well-being."
To join Gramatan Village, please call (914) 337-1338 or visit gramatanvillage.org
Photos courtesy Gramatan Village
Editor's note: As a public service, MyhometownBronxville publishes articles from local institutions, officeholders, and individuals. MyhometownBronxville does not fact-check statements therein, and any opinions expressed do not necessarily reflect the thinking of its staff.