(L-R): Father Michael Bird with Edelawit, Catherine and Patrick Bird and their dog Maximus
By Sarah Clifford
Jan. 6, 2020: After 16 years as Rector of Christ Church Bronxville, the Reverend Michael A. Bird, has been called to the new position of Vicar of Trinity Church Wall Street, starting on January 1, 2021. 
The highly regarded Father Bird is known for his powerful, direct and relevant sermons, wide smile, enthusiastic support of young people, considered questioning of the status quo, and commitment to, as he describes, "making our worship nourishing and challenging."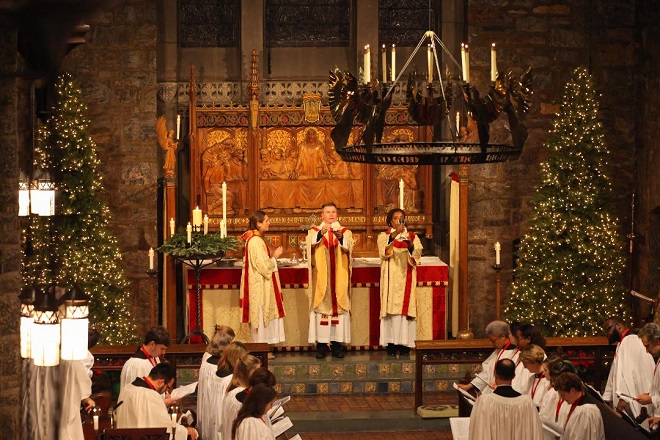 Christ Church at Christmas 2019
Jennifer Redman, Junior Warden of the Christ Church Vestry, expressed her gratitude for Father Bird's "tireless work, generous offerings of liturgy, light, and love," and for the "transformation of the buildings" and making sure "they were filled with teens looking for love, acceptance, and community; children who were taught to pray and ask big questions; and joyous singing, meaningful liturgy, uplifting sermons, a flourishing youth ministry and performing arts program, a dedicated staff, animals to bless and, also, really delicious chili cook-offs."
Christ Church Bronxville is a beautiful church with a formal feel, but services with Father Bird were more like a get-together. He always connected each Sunday reading to an issue touching the lives of people today. He would make it relevant and important. He would also come down from the pulpit to be closer to the congregation to discuss an important issue in the world or community. Every passing and birthday was recognized.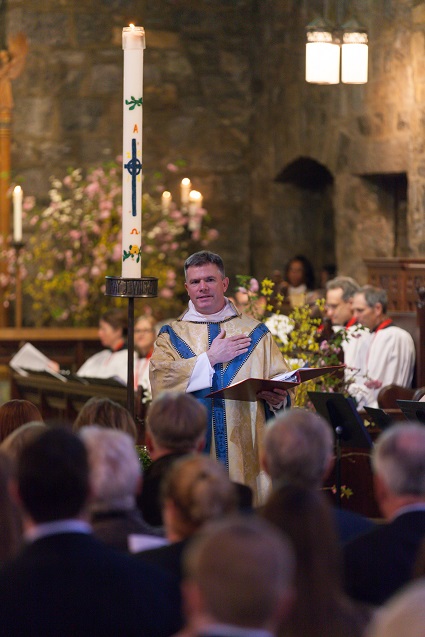 Father Bird during a service at Christ Church
Over his time at Christ Church, Father Bird presided over 180 baptisms and 40 marriages, sponsored over 250 young people for Confirmation, and led annual youth trips to the Taizé monastery in France and to places like Cuba and Puerto Rico.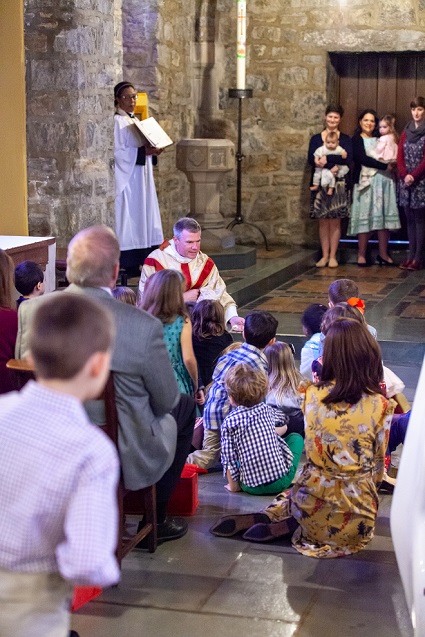 Father Bird during baptism at Christ Church Bronxville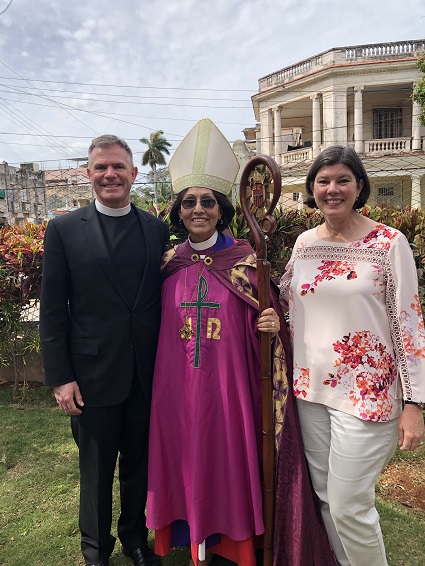 (L-R) Father Bird, Bishop of Cuba, Catherine Bird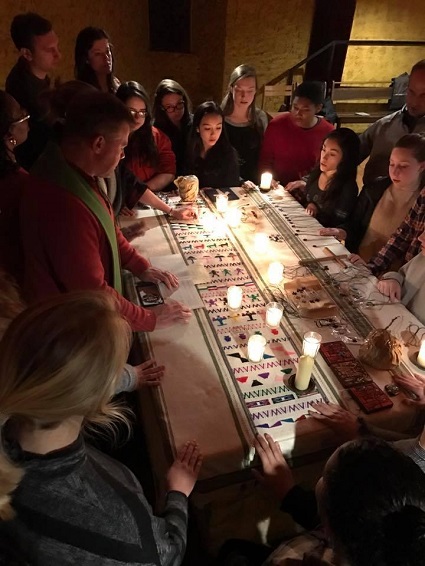 Christ Church Episcopal Youth Community ("EYC") around altar at Taizé
He encouraged growth in the Church's amazing music program and passionately supported both the Eliza Corwin Frost Child Center and the Young at Arts program. Finally and importantly, Bird also helped expand the neighborhood of Christ Church well beyond the borders of Bronxville.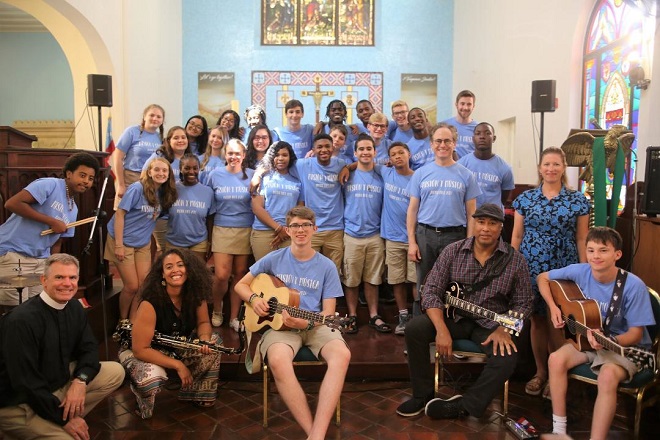 Christ Church Episcopal Youth Community ("EYC") and Young at Arts Mission trip to Puerto Rico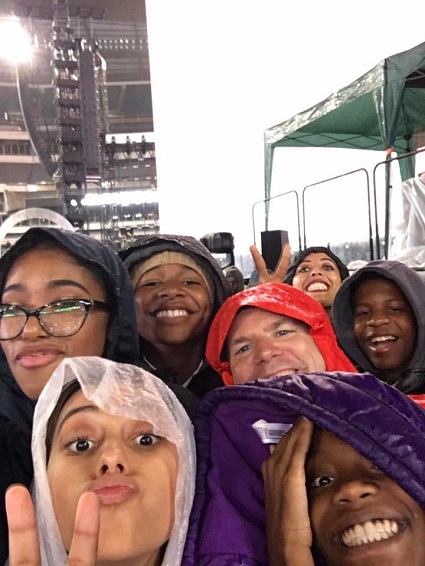 Selfie of Father Bird with students from Young at Arts on field trip to Philadelphia for Beyoncé concert
The Rev. Jennifer Brown, Assistant to the Rector of Christ Church, described Father Bird's leadership as "a beacon of light in Westchester. Father Bird's commitment to peace, justice, and the sharing of God's unfailing love and mercy has allowed our community to embrace our many differences."  
Mother Brown is also grateful for the part that Father Bird played in her development as a priest. "For the past 13 years, he has helped to shape and form my liturgical and theological outlook, and I am forever grateful for the influence he's had in my life."
Trinity Church Wall Street, located at Broadway and Wall Street in Manhattan, is one of the oldest Episcopal churches in the United States. It was granted a charter by King William III in 1697. The present building is the third on the site and was built in 1846. President Washington worshipped there when New York City was the capital of the United States and other parishioners from this time include John Jay and Alexander Hamilton. The building is a National Historic Landmark. This link to the past is not lost on Father Bird, who has a great appreciation for history.  
Trinity Church Wall Street has a community of more than 1,200 members and has a long history of ministry both locally and globally. It has programs in Music, Arts, and Social Justice and provides significant grants every year to many organizations in the local area and worldwide.
As Vicar of Trinity Church Wall Street, Father Bird will be responsible for setting thematic goals and defining objectives for the Church, being a leader of the priestly functions, fostering fellowship and community, and working with the Priest-in-Charge and Senior Ministry Team to build and maintain many important local and international partnerships.
Father Bird is so grateful for his years at Christ Church and in Bronxville. "To be part of this beloved community, and to participate in its growth, has been an undeserved, unexpected, and deeply appreciated honor," he said.
Father Bird will be greatly missed, but we know he will make a great impact at Trinity Church Wall Street and in all the communities it serves. We wish him all the very best.
Photos courtesy Christ Church Bronxville