By Jane Moynihan
Sept. 29, 2021: This October the Bronxville Adult School will open its doors for in-person courses for the 79th year. The Bronxville Adult School is built on engaging instructors who inspire students of all ages to develop new skills and pursue lifelong learning.  While some instructors come up from New York City and the surrounding area and others teach virtually from all over the world, one of the most popular long-term instructors is local Bronxville resident Melissa Shinsato. 
Melissa Shinsato has been teaching knitting and other needle arts courses (including crochet) at the Bronxville Adult School since 2009. Her grandmother taught her to knit when she was 12 years old. She was immediately hooked and went on to get a degree in fashion design from the Fashion institute of Technology. Her professional career includes 10 years in the garment industry at Liz Claiborne and Ralph Lauren. Melissa and her husband Neal have lived in Bronxville for 23 years with their three daughters.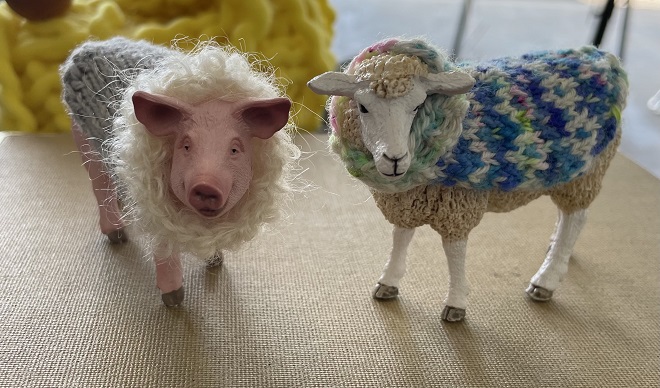 Knitted "sweaters" by M. Shinsato
Some of her first students are still taking her classes 13 years later. Her students initially join her classes to learn how to knit, but they return year after year for the camaraderie and sense of belonging to a group with a shared interest. Denise Burns took her first knitting class with Shinsato ten years ago. Since then, she says "Melissa has become a friend and our "regulars" have developed a strong relationship of trust and companionship beyond class.  I look forward to our first class every year to hone my skills and see all my friends."
Shinsato enjoys sharing her expertise and passion with students from Bronxville and neighboring communities. "During the lockdown, seeing my students and the evolution of their work was one of the things I missed the most," said Shinsato. Her classes stress the joy of knitting and she encourages her students to choose meaningful projects. Burns says, "Melissa is patient and can explain even the most difficult stitches. I can now knit almost anything.  She gives me the confidence to tackle things I would never have thought I could make. Knitting is a fun hobby and a tremendous stress reliever. Also, the expression on a new Mom's face when you give her something knitted for her baby is priceless!!"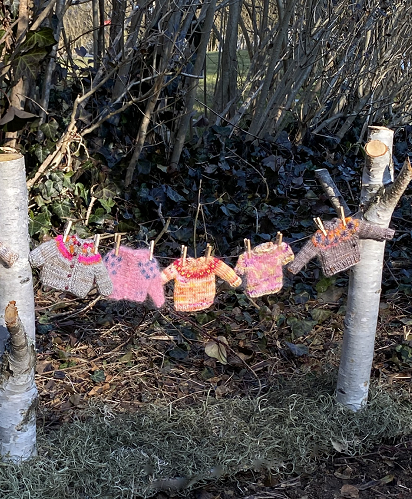 Knitted baby sweaters by M. Shinsato
Bronxville resident Alexa Pappas Zannetos has been taking knitting classes with Shinsato for many years.  "Melissa is an expert knitter but also fun and interesting," says Zannetos.  "I enjoy the classes for the social aspect as much as the learning.  Melissa pushes us to progress and encourages us to take on more challenging projects.  She is helpful with ideas for projects and is supportive when things don't necessarily go as planned."
This semester Shinsato will teach beginner and advanced knitting as well as courses in macrame and embroidery. The classes are held in the evenings in-person at the Bronxville school along with many other classes such as fitness, the arts, technology, languages and more. To sign up for Shinsato's classes or browse the catalog, visit Bronxvilleadultschool.org or call 914.395.0516 or email: This email address is being protected from spambots. You need JavaScript enabled to view it.
Bronxville Adult School fall semester includes over one hundred classes (in-person and virtual).  The Bronxville Adult School is a not-for-profit organization incorporated in 1957 and chartered by the New York State Board of Regents. 
Photos courtesy Bronxville Adult School
Editor's note: As a public service, MyhometownBronxville publishes articles from local institutions, officeholders, and individuals. MyhometownBronxville does not fact-check statements therein, and any opinions expressed do not necessarily reflect the thinking of its staff.