By Jane Moynihan
June 14, 2023: Teachers and staff at The Bronxville School enjoyed free pickleball classes this spring, thanks to a unique initiative of the Bronxville Adult School (BAS) and the Bronxville School Foundation. 
Offered as a way to thank faculty and staff for their service and taught by Bronxville School PE teacher and popular Bronxville Adult School instructor Matt Fisher, the classes took place twice a week in the gym after school.
Over the course of the 5-week program, 35 teachers, aides, clerical staff, therapists, coaches, and nurses had fun while learning to play what is one of America's fastest-growing sports. 
The classes were offered through the Bronxville Adult School using a grant from the Bronxville School Foundation. 
The idea was originally conceived during the Covid pandemic. Helena McSherry, Executive Director of the Bronxville School Foundation, explains, "the Foundation wanted to express its deep gratitude for everything the staff did for our school during that challenging time and also to support their health and wellness."  
The Bronxville Adult School chose pickleball because it is the hottest sport around, one of the most popular classes at BAS, and also because Matt Fisher was on board to teach. Fisher is a certified pickleball instructor and also teaches in the after-school program BASC. McSherry says, "The Foundation couldn't be happier that so many members of our dedicated staff enjoyed the classes."
Describing the experience, Fisher says the goals for the class were to "have fun, learn the game, get a workout, and make connections with other people." Teachers were happy to learn a game they could play outside of school over the summer, and he notes, the mix of players led to new relationships with others who work in the building.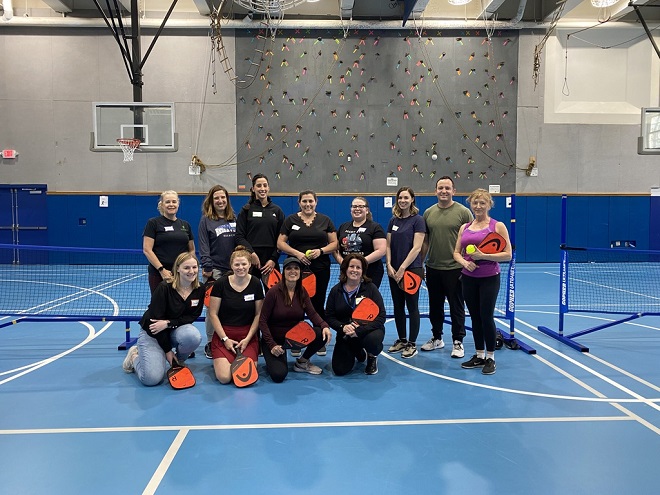 Bronxville music teacher Uma Karkala says, "taking pickleball classes was the highlight of the spring semester. Not only has it been a great way to exercise, it has been a great social and learning experience. Matt Fisher is an excellent teacher and is clear and patient with all the different levels of players." 
Most of the players did not have any pickleball experience when they signed up for the classes, but by the end of the program, everyone could play the game. According to Fisher, although it was not a competitive atmosphere, some teachers and staff have become passionate about pickleball. 
Pickleball is just one of over hundreds of courses offered through the Bronxville Adult School. 
Registration for the fall semester will open in early August. To sign up for the BAS newsletter, please visit bronxvilleadultschool.org. You can follow BAS on Instagram and Facebook.
Photos courtesy Bronxville Adult School