By Staff
Feb. 10, 2021: Growing up, Franco D'Alessandro, playwright, poet, and Bronxville High School English teacher, was known more for his football prowess than his writing. D'Alessandro, known as "Mr. D." by his students, grew up in Yonkers and went to Iona Prep, where he was an All-State nose guard. In his senior year, he was recruited to play football at several colleges, but ended up at Villanova University, where his brother also played.
While in college, D'Alessandro pursued some of his other interests. These included a love of languages and writing. Having grown up in a first-generation Italian household, D'Alessandro was fluent in Italian and spent a semester in Italy. When he returned to school in the states, he started taking theater classes and discovered playwriting. 
After graduating from college, D'Alessandro's one-act plays began being shown in New York theaters. In 2002 his Off-Broadway hit Roman Nights became a critical and commercial success in New York, London, and Prague. Roman Nights continues to be produced all over the world and is currently being developed by Rose Pictures as a feature film or limited series.
Over the years, D'Alessandro has also shared his love of writing in the classroom. He taught for one year at the LaGuardia High School of Music & Art and Performing Arts and then spent the next 13 years teaching senior English, theater, and film at the Grand Street Campus in Brooklyn, before he joined the Bronxville High School faculty in 2014. He currently teaches AP Literature and Composition. He also teaches playwriting at Sarah Lawrence College.
D'Alessandro's latest work is a collection of poems entitled Everything is Something Else. It was just released in bookstores, including in Womrath Book Shop in Bronxville. It's a collection of poems from the past 30 years, some of which have been previously published in international literary journals.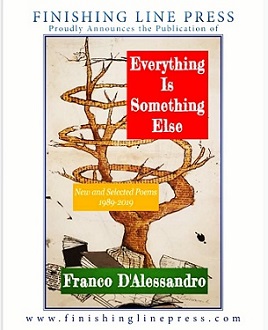 Before he died in 2016, D'Alessandro's mentor, Edward Albee (Pulitzer & Tony-Award Winning playwright) described his poetry as follows 
"Franco D'Alessandro, a playwright with a poet's soul, accomplishes what is, perhaps, the most difficult thing for a writer -he makes you care."
When asked how he finds the time to teach and write, D'Alessandro simply says, "It's a labor of love. It's what I want in my life."
D'Alessandro's book Everything is Something Else can be found in Womrath Book Shop on 76 Pondfield Road (337-0199) in Bronxville and on their website.
Pictured: Franco D'Alessandro