Pictured: Addie St. Phillip, Hope Hershberg, Molly Bishop, Clarissa Russo. Photos by D. Fenner
By Alanna Leavell, PTA Arts Council Member 
April 26, 2023: Just before the tulips bloomed in Bronxville, many talented students of the Bronxville School were on full display in our village.  The movie theater was transformed into a forum for local emerging talent. Voices rang out over the dark rows, some timid at first, others confident and full, all brave and inspiring. Just outside the theater, imaginative artwork lined the lobby, where the community gathered to celebrate artists.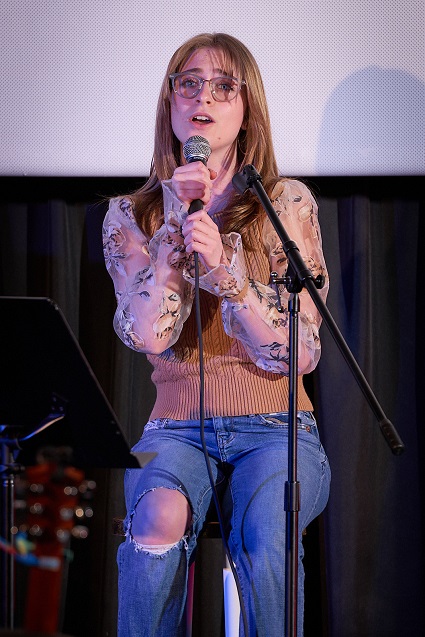 Peyton Levine
The reception and open mic night at The Picture House Bronxville were part of the Bronxville School's annual "Spring Into the Arts" event, which is sponsored by the Fine Arts Department in collaboration with the PTA Arts Council, Bronxville Chamber of Commerce, and the High School Arts Society Club.  
Throughout the ensuing two weeks in March, Spring Into the Arts included installations of more than seventy pieces of student artwork in shops around the village. Courtney Alan, a visual arts teacher and curriculum leader, created a scavenger hunt, so young families could engage their children's budding appreciation for art as they strolled through town. Sweet prizes donated by Candy Rox awaited those who made it to the end of the hunt.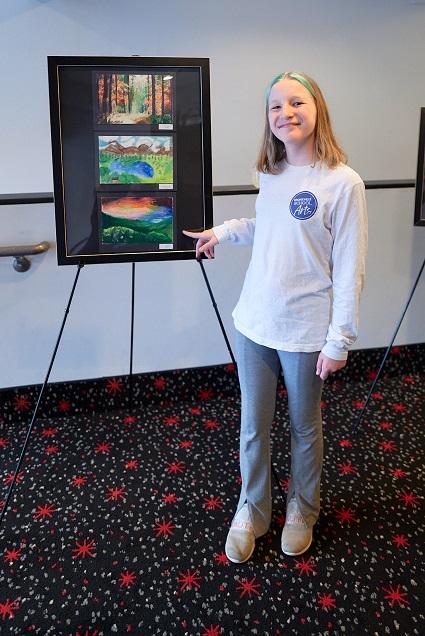 Zoe Reid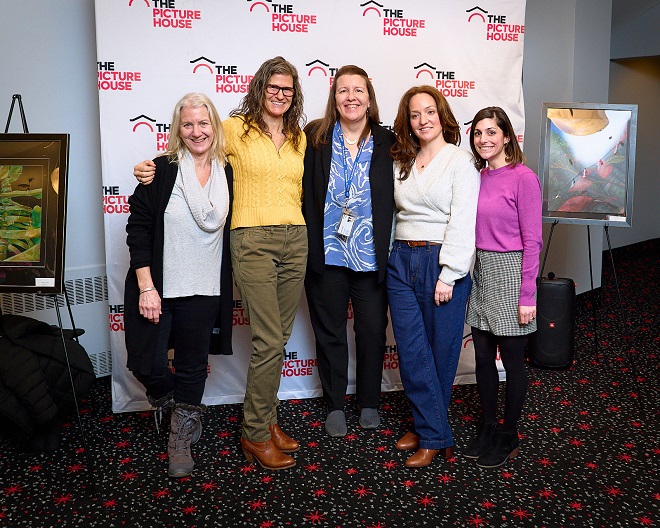 Ms. Kendall Fousek, Ms. Marijke Briggs, Ms. Ann Meyer, Ms. Courtney Alan, Ms. Jackie D'Arco
"I've watched this event grow over the years, and I continue to be in awe of the desire to celebrate our student artists as a part of this amazing and supportive community," said Ms. Alan, who along with her colleagues selected art to complement each of the participating businesses: an acrylic painting of fall leaves and flowers in the window of florist Tryfornos & Pernice. Front and center at the Fine Arts Gallery was a painting that captures the warmth and light of the community by senior Andrew Doyle. This year, Andrew was awarded the prestigious Gold Key Award from the National Scholastic Art Awards for drawing and illustration. 
More artwork, from ceramics to landscapes, was on display at the opening reception. Bronxville Mayor Mary Marvin joined school administrators and other community members to congratulate the talented student artists along with their families and dedicated teachers.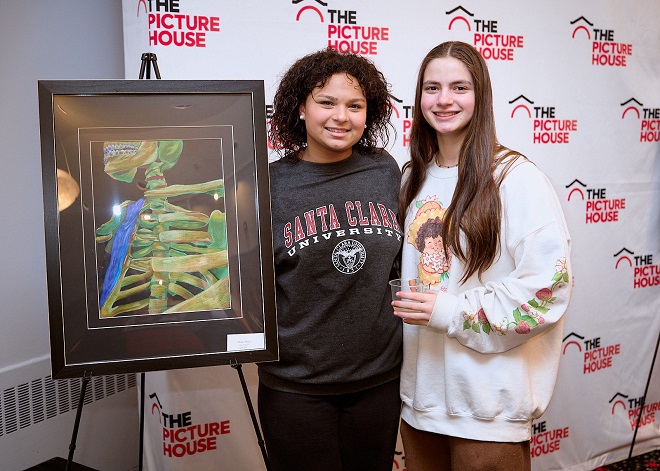 Megan Matias, Sabrina Presant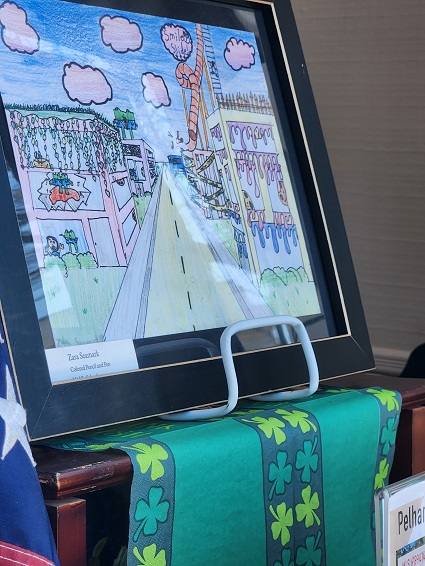 Zara Seamark's Artwork
The Open mic night at The Picture House Bronxville that took place after the opening reception, was organized by the Co-Presidents of the High School Arts Society Club, Molly Bishop and Addie St. Phillip. Both seniors have starred in recent musical theater productions at the school and acknowledge the opportunities for formal instruction and performance in the arts curriculum. "Open mic night differs in that it has a relaxed atmosphere, and we've been told it offers a welcoming feeling for all students," said Addie. 
Eighteen students signed up to take part, and each performance brought a different mood to the theater. First up, junior Gwen Kirst gracefully took on the folksy range of high notes in "Curses" by the Crane Wives. Soon after, junior Jack Pasquale sang the Neil Diamond classic "Sweet Caroline," and the crowd couldn't help but join in. Sophomore Daniel Visconti played the saxophone, using his playful facial expressions to connect with the audience. Freshman Peyton Levine chose the ballad "Hopelessly Devoted" from Grease. Her mom, Ami Schmitz, spoke for all parents in the audience when she said she felt a combination of nerves and pride. 
"It was so wonderful to see our community come out to support the kids and really special to watch my freshman be mentored by upperclassmen who had come up through our phenomenal arts program," said Schmitz. "This was Bronxville at our very best - kids supporting and cheering each other on." 
Molly and Addie along with Hope Hershberg and Clarissa Russo closed out the night with their soaring version of "Clean" by Taylor Swift.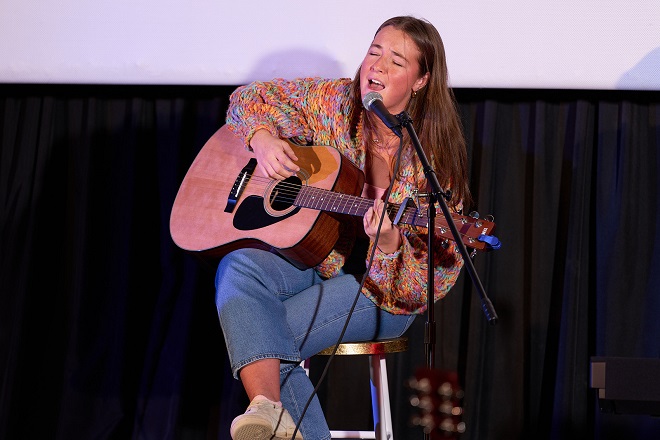 Anna Outcalt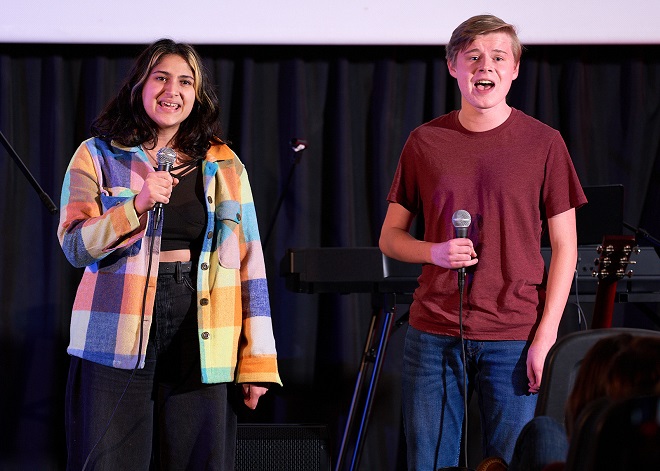 Ariya Banihashem Ahmad and Jeffrey Rohr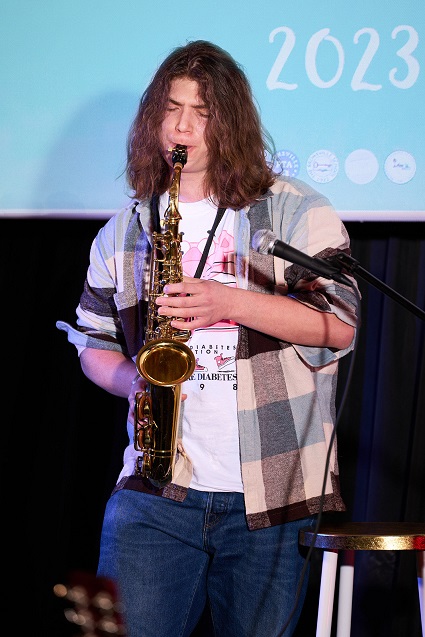 Daniel Visconti
"Celebrating and showcasing our students' talents, whether it's through the art that was displayed in our village shops or open mic night, is so important," said Kelly Fezza and Ashley Gramins, Co-Chairs of the Arts Council, a new branch of the PTA this year. "It brings our community together and inspires a younger generation of student artists."