By Amie Hollman
July 28, 2021:  Contemporary mixed media artist Stephen Hawkey uses vintage materials to explore timeless themes in his solo exhibition Exposed: The Art of Stephen Hawkey.  The Opening Reception is at the J. Mackey Gallery (62 The Circle, East Hampton, NY) on Saturday, July 31, 2021, 7 - 9 PM.  Click here to register for the reception.
His thought provoking works involve an intricate process of assembling, painting, deconstructing and reconstructing works to create a layered exploration of the everyday. Citing the words of William Burroughs, "When you cut into the present the future leaks out," Hawkey says, "it is exposure to the present that I examine, reimagine, rework, realign and reconstruct to create art."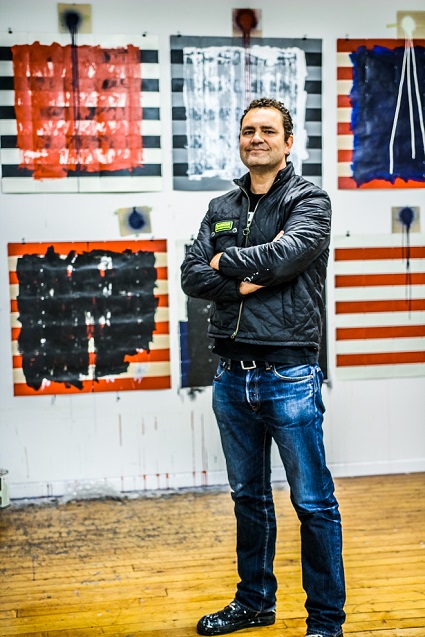 Artist Stephen Hawkey
Stephen Hawkey graduated with a BFA from Miami University and worked as an Art Director at a boutique advertising agency, directing campaigns for Fortune 500 companies. He went on to study Architecture receiving a Masters in Science from Pratt Institute. His practice led him to work on prominent projects such as the Freedom Tower and large scale designs in Dubai. It was while working as an Interior Architect at Michael Graves, that he came to terms with his own desire to create art. He now works as a full time mixed media artist and is on the board of the Bronxville Design Review Committee. He resides in Bronxville with his wife Colleen O'Callaghan and their three children.
J. Mackey Gallery is open to the public Tuesday to Sunday from 10:30am – 6:00pm, and by appointment. For more information or to schedule an appointment, please visit our website jmackeygallery.com or contact Justine McEnerney at 917-592-8568.
Photos courtesy J. Mackey Gallery