Pictured: Concordia Conservatory Executive Director, Kathleen Suss, speaking with (L-R) Mayor Marvin of Bronxville; Mayor Andino of Tuckahoe; Mayor Howard-Patterson of Mount Vernon; Mayor Mullen of Pelham; Eastchester Town Supervisor Anthony Colavita
By Kathleen Suss, Executive Director, Concordia Conservatory
June 16, 2021: The community came together on the afternoon of Sunday, June 13 to announce Concordia Conservatory's 2021-22 school year and that the Conservatory will continue in its current locations of Bronxville and Stamford as the premiere music education resource in Westchester and Fairfield counties.
In attendance and showing their commitment to the Conservatory were the Honorable Mayors, Town Supervisor and Village Trustees from Bronxville, Eastchester, Tuckahoe, Mount Vernon and Pelham.  Each spoke about the impact Concordia Conservatory has had in their communities and their enthusiasm and support in the future.
Below are some photo from the event!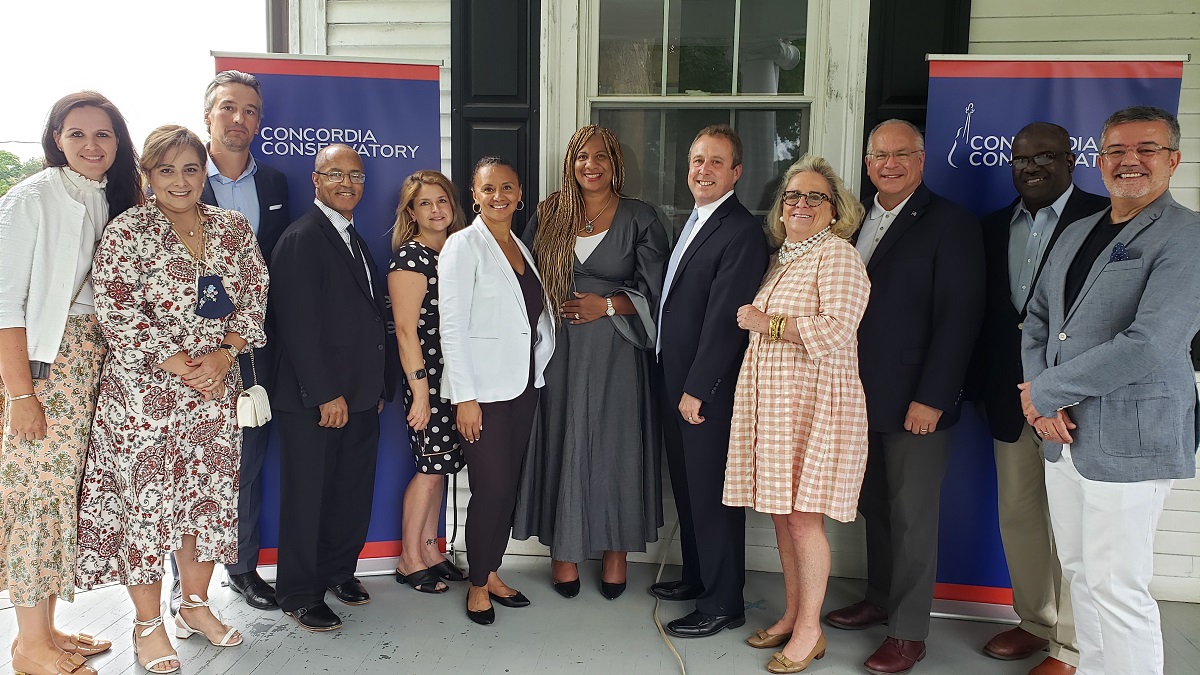 Pictured: Participants and speakers at the Open House included (L to R) Parent and current Board member Zlata Gleason; past Board member and current adult student Claudia Amboss; 2021-22 Board member and Conservatory parent George Lekovic; Tuckahoe Village Trustee Darryl Taylor & Cara Kronen; Tuckahoe Mayor Omayra Andino; Mount Vernon Mayor Shawyn Patterson-Howard; Pelham Mayor Chance Mullen; Bronxville Mayor Mary Marvin; Eastchester Town Supervisor Anthony Colavita;  Kenneth Jenkins Westchester Deputy County Executive; former Conservatory Board member and current adult student Mauricio Morato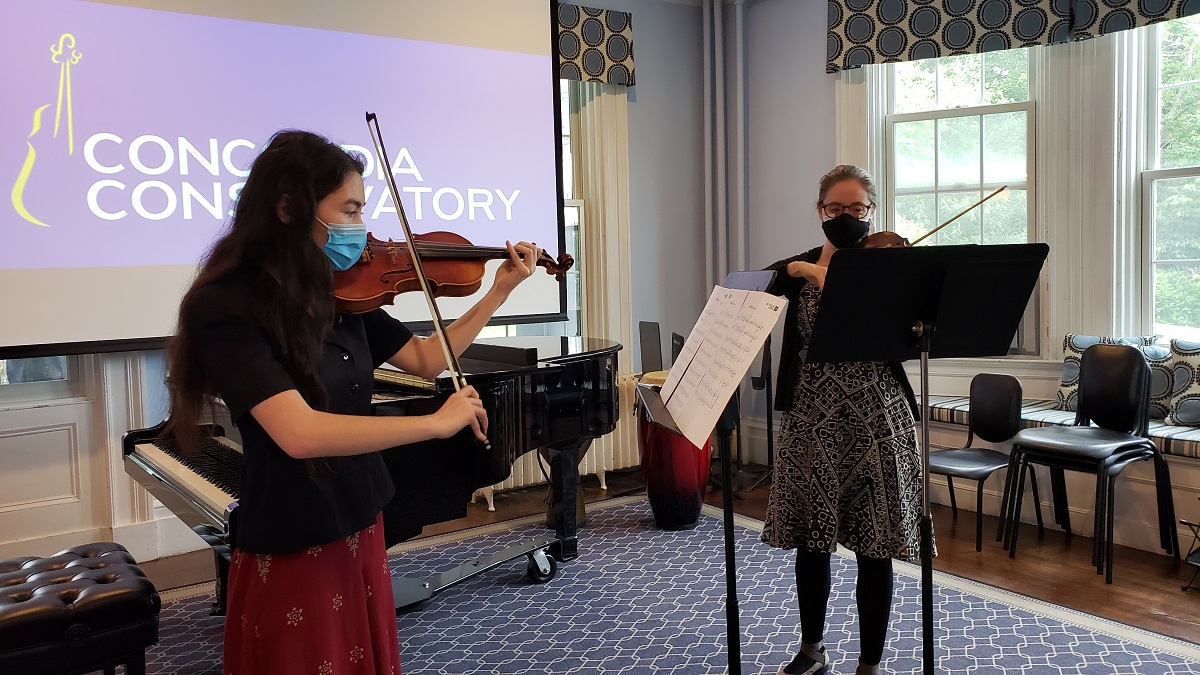 Conservatory student and soon to be Eastchester HS graduate Emma Keegan plays with her violin teacher Emily Kalish.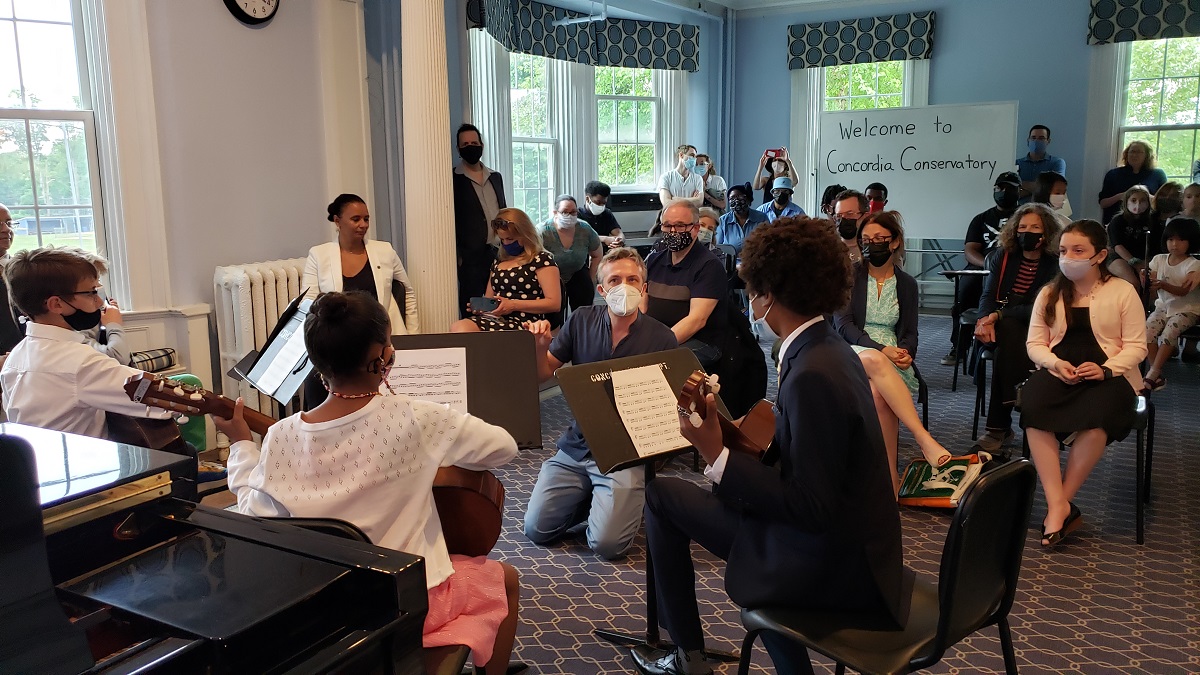 Concordia Conservatory Strings Department Head and guitar faculty Rami Vamos leads as his guitar group plays for the audience.
Click here for Open House Jam Video with Mayors, Town Supervisor and Deputy County Executive
Photos courtesy Concordia Conservatory
Editor's note: As a public service, MyhometownBronxville publishes articles from local institutions, officeholders, and individuals. MyhometownBronxville does not fact-check statements therein, and any opinions expressed do not necessarily reflect the thinking of its staff.