By Kathleen Suss, Executive Director, Concordia Conservatory
Feb. 10, 2021: The popular Concerts at the OSilas series continues its fifth season with a program that celebrates women composers throughout history against the backdrop of The Art of the Quilt, the OSilas Gallery's bold exhibition of extraordinary contemporary quilts from the Manhattan Quilters Guild.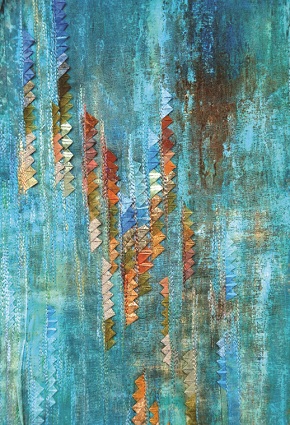 The concert, which includes an informative discussion by the musicians, will be recorded at OSilas Gallery at Concordia College and broadcast to ticket holders on February 14 at 5 pm. A short video presentation of the exhibition will also be shown. 
Under the direction of Artistic Director Marija Ilic, Concordia Conservatory's faculty Monica Bauchwitz (violin), Annette Espada (cello), and Emanouil Manolov (violin) will perform works by Hildegard of Bingen, Clara Schumann, Rebecca Clarke, and Florence Price. The music selections span eras from the Middle Ages through Romanticism to contemporary times. 
To purchase tickets for this broadcast, or a subscription to this season's Concerts at the OSilas series, visit www.concordiaconservatory.org or call (914) 395-4507. 
About the Artists
Hailed as an "excellent violinist" by the Washington Post, Monica Bauchwitz performs extensively in chamber music, orchestral, and solo settings. Ms. Bauchwitz has studied and worked both in the United States and Europe. 
A graduate of the Eastman School of Music and the Conservatoire de Geneve, she has held positions with L'Orchestre de la Suisse Romande in Geneva, Switzerland, and the Esbjerg Ensemble-the national Danish chamber ensemble. 
She has toured widely across Europe with classical and contemporary chamber music repertoire and has participated in such festivals as Great Irish Houses Music Festival in Ireland and the Schleswig-Holstein Chamber Music Series in Germany. 
She has performed as soloist with orchestras in Scandinavia, Central Europe, and the New York region and has recorded chamber music under the Philips label. As a former member of the critically acclaimed Contrasts Quartet, she has received the Chamber Music America Residency grant and performed in numerous world premieres and recordings of works by Aaron Jay Kernis, Ned Rorem, and Derek Bermel. Ms. Bauchwitz is the founder of the Manhattan chamber music series "Concerts in the Heights." This series brings together world-class musicians for performances and educational projects. 
She is co-concertmaster and Artistic Director of the conductor-less String Orchestra of New York City- SONYC, which released its CD ("first takes") on the Albany label. This dynamic ensemble wins over audiences with its energetic, impassioned style; Pulitzer Prize-winning composer Paul Moravec calls it "a composer's dream". Ms. Bauchwitz serves on the faculty of Concordia Conservatory of Concordia College.
Annette Espada earned a doctorate in cello performance from the University of Miami, a master's degree in music education, full Kodaly certification from New York University, and a bachelor's degree in cello performance from the Puerto Rico Conservatory of Music.  
Solo/ensemble cellist and freelancer, Espada has performed in recitals and chamber music concerts in the United States and abroad, as well as with the New York Grand Opera, the Puerto Rico Symphony, the Casals Festival, Miami City Ballet, Virginia Symphony, Williamsburg Symphonia, Williamsburg String Trio, Altamar String Trio, Cantabile, Musica de Camara, The Hoch Chamber Music Series and Broadway.  
Dr. Espada is also a dedicated music and cello teacher and published author of two books on cello playing: The Evolution of Cello Playing in Puerto Rico: The Legacy of Pablo Casals and Tips About Cello Playing I Learned From a Ladybug. She is on the faculty of PS 189 in Manhattan and Concordia Conservatory/College.  
Annette Espada was invited to participate as a cellist and lecturer at the "Boricua Rhythms Conference" at SUNY-University of Albany in 2012. This was a two-day event celebrating and examining the rich musical heritage of Puerto Rico through lecture/recitals, presentations, and panel discussions.  
She was inducted into the National Honor Roll's Outstanding American Teachers for exceptional performance in the motivation and empowerment of today's youth 2005-2006.
Violinist Emanouil Manolov made his debut playing on Bulgarian National Television at the age of ten. Since then, he has gone on to concertize throughout his native Bulgaria, Germany, Japan, and the U.S. Solo and chamber recitals include performances at the Kennedy Center, the Library of Congress, the Smithsonian, the Embassy Series, and Weill Hall. 
Mr. Manolov has collaborated in chamber music performances with members of the Emerson Quartet, the Berlin Philharmonic, and the Chamber Music Society at Lincoln Center. He serves as Artistic Director of the North Shore Pro Musica chamber music series.
Artistic Director Marija Ilić, pianist, is an active performer of the traditional repertoire and new music in New York City and has been praised as a "clear and decisive musician," "compelling," and "poetic," and noted for her "quiet intensity" by The New York Times. 
Her performances include recitals at the Weill Recital Hall at Carnegie Hall, the Smithsonian Institute in Washington, DC., Musica Viva and Kolarac Hall in Belgrade, the Clark Studio Theater at Lincoln Center, and the 92nd Street Y, as well as the Music Festival of the Hamptons, Aldeburgh Festival in England, Norfolk Contemporary Music Festival, Music at Concordia, and Trinity Church. 
Ms. Ilić has worked with composers Martin Bresnick, George Crumb, Oliver Knussen, Joan Tower, Vykintas Baltakas, Meredith Monk, and John Patitucci, among others. 
She has collaborated with the National Theater of the United States of America on their productions Chautauqua! and What's That on My Head?, with choreographers Ariane Anthony, Rachel Cohen, and Rajika Puri, and she is a member of Dan Joseph Ensemble. She is the founding principal pianist of Christopher Caines Dance Company, with which she has appeared regularly since 2000. 
A native of Belgrade, Serbia, Ms. Ilić holds degrees from the Belgrade Music Academy and Mannes College of Music and a doctorate in piano performance from Rutgers University. Her piano teachers include Susan Starr, Pavlina Dokovska, Nina Svetlanova, Stephanie Brown, and the harpsichord master Kenneth Cooper. She can be heard on New World Records, Mutable Music, and Innova labels.
Photo courtesy Concordia Conservatory

Editor's note: As a public service, MyhometownBronxville publishes articles from local institutions, officeholders, and individuals. MyhometownBronxville does not fact-check statements therein, and any opinions expressed do not necessarily reflect the thinking of its staff.